Introducing our new LED Light Therapy Treatment! This can be booked as a full service or as an add on to another treatment. Have you ever heard of tanning beds clearing acne? If so, it's because heat kills bacteria on the skin, which in return clears up acne. We all know that tanning beds are the furthest thing from healthy, so this is where LED Light Therapy comes in!
RED LIGHT THERAPY
Originally developed by NASA for plant growth experiments, but later found that it has major wound healing properties! When the red light is applied, it penetrates deep into the dermal layer where it is absorbed, and collagen proteins are stimulated. In return, this plumps the skin to reduce fine lines and wrinkles, improves circulation for a healthy glow, reduces redness and inflammation, and has been shown to help reduce cystic acne.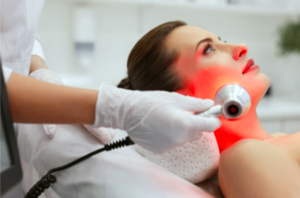 BLUE LIGHT THERAPY
This light treats directly under the surface of the skin and is used to target oil glands. Blue light reduces the size of enlarged oil glands, kills bacteria in the skin reducing breakouts, cysts, and nodules. There have been studies showing that blue light therapy can also improve the healing of burns and decrease existing scarring. A great treatment add on to prevent future breakouts as well and current.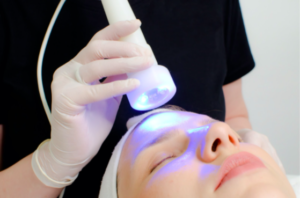 Alle is Allergan's Reward Program and Aspire is Galderma's Reward Program. They are free to join and when you are a member, you will earn points for most treatments at Fig. These points are equivalent to cash towards the purchase of services and products. Click the images to sign up and learn more. Please give us a call with any questions. We're happy to help!
ADDRESS:
Fig Medical Spa
8921 S Yale Ave
Tulsa, OK 74137
CONTACT:
Phone: 918-932-8810
Fax: 918-512-7683
Figtulsa@gmail.com
BROCHURES:
Click to Download
HOURS:
Mon: Closed
Tues: 10am-7pm
Wed: 10am-4pm
Thurs: 10am-4pm
Fri: 10am-3pm
Sat: By Appt
Sun: Closed